Wet 'n Wild
A 15-acre water theme park, Wet 'n Wild offers visitors surfing, swimming, rafting and a huge array of water attractions and slides including Bomb Bay, the ultimate in a 76-foot-high water slide experience. For the less stouthearted, a large sunbathing deck loaded with lounges is also available. From April 1 to June 3 Wet n' Wild is open from 10 a.m. to 6 p.m.; from June 4 through Sept. 4, hours are 10 a.m. to 8 p.m., and from Sept. 5 through Oct. 3, the park is open from 10 a.m. to 6 p.m.
Hoover Dam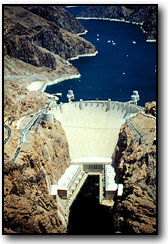 Hoover Dam, an arch-gravity dam 726 feet high and 660 feet thick at its base, is an engineering wonder of the world. The dam forms Lake Mead, a recreational destination for fishing, camping, boating and water skiing. Thirty-five-minute guided tours of the dam are available daily. The Hoover Dam project, which included the dam, the All-American Canal, the town of Boulder City, highways, railroads and various other works, cost $165 million to build.
The 1930's price tag on the dam itself was just under $60 million, about 6 percent of the $1 billion MGM Grand Hotel, Casino and Theme Park on the Las Vegas Strip. More than 9 million people use the recreational facilities at Lake Mead each year.
Review/Book Hoover Dam Tours
Lake Mead
Lake Mead is 110 miles long when filled to capacity. The Lake Mead National Recreation Area is a destination for more
than 9 million visitors yearly. A variety of activities can be enjoyed on Lake Mead including camping, boating, water skiing and fishing. There are many species of game fish including largemouth bass, crappie, blue gill, catfish and striped bass. Striped bass of more than 50 pounds have been caught in Lake Mead. Although use of the Recreation Area is currently free, the National Park Service will in the next few years begin charging a fee to enter the area. Campers already pay a fee to stay the night in improved facilities at the lake.
Marinas on Lake Mead rent houseboats, ski boats and fishing boats. The 550 miles of shore around the lake presents some great opportunities for outdoor recreation.
Review/Book Lake Mead Tours
Valley of Fire State Park
This beautiful desert park is 52 miles northeast of Las Vegas. A visit to the park is a trip back in time where centuries of wind erosion carved red sandstone rock formations into exotic shapes. Still visible today are the petroglyphs that Native Americans cut into boulders and rock faces. There is a $3 special use fee to enter the park.
In the city of Overton, a short distance from Valley of Fire, the Lost City Museum contains artifacts from ancient Native American civilizations that once lived on the banks of the nearby Muddy River.
Red Rock Canyon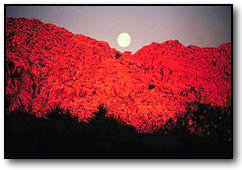 Once the home of ancient Native American tribes, this magnificent canyon was formed by a thrust fault -- a fracture in the earth's crust where one rock plate is thrust horizontally over another. Red Rock Canyon is home to feral horses and burros, as well as various species of wildlife including desert bighorn sheep and antelope. Stop at the visitors center for tour information. Beginning in March or April 1997, the BLM charges a $5 fee to enter the area or a $20 fee for an annual pass.
Within the Red Rock Canyon recreation lands is Spring Mountain State Park. This picturesque ranch, once owned by Howard Hughes and another time by German heiress Vera Krupp, lies beneath the cliffs of the Wilson Range. Springs in the surrounding mountains provided precious water to the early Paiute Indians.
The Bureau of Land Management, which oversees the Red Rock area, reports almost one million people visit that area annually. A BLM spokesperson said plans for Red Rock Canyon include limiting the number of vehicles allowed in the area. A shuttle bus system may eventually be established to reduce vehicle traffic.
Review/Book Red Rock Tours
Mount Charleston
Part of the Spring Mountain Range, Mt. Charleston looms 11,918 feet above sea level and is a one-hour drive from Las Vegas. Some of the mountain's recreational sites between the 6,000 to 8,500 foot level feature skiing and sleigh rides in the winter, and horseback riding, wagonrides and hiking in the summer.
Full-service camping is available from May 1 through Sept. 30, 7 days a week. Walk-in snow tent camping is permitted if vehicles can be parked safely off the highway. Some sites are available on a first-come, first-served basis, but other sites can be reserved. Reservations must be made at least 10 days in advance. Facilities for recreational vehicles are available by reservation only. To make reservations call 800-280-CAMP (2267). For additional information please contact 702-873-8800.
River Rafting Tours
Rafting tours, operated by National Park Service concessionaires, are available including 3-, 6- and 8-day trips of the Colorado River and its historic rapids. Black Canyon River Raft Tours offers a leisurely Lake Mojave float trip starting at the base of Hoover Dam and passing through one of the river's most beautiful canyons. For information contact Grand Canyon National Park, 602-638-7779; or Black Canyon River Raft Tours, 702-293-3776.
Review/Book River Rafting Tours
Grand Canyon
Visitors here can experience some of the most spectacular views on earth. Grand Canyon National Park in Arizona and Zion National Park in Utah are both accessible by car and can be reached in one day's drive from Las Vegas. Air tours of both areas are available through several air tour companies based in Las Vegas. Some tour operators offer both air and air-ground tours.
Review/Book Grand Canyon Tours
Public Golf Courses
Angel Park Golf Club features 36 holes of championship golf designed by the legendary Arnold Palmer, the lighted Cloud Nine Short Course and the world's original natural grass Putting Course. 100 S. Rampart Blvd. Call 702-254-4653.
Las Vegas Golf Club was established in 1945 and is the oldest course in the valley. It presents the quintessential player-friendly, muni-golf experience, but with something new: $5 million in recent improvements, including a new clubhouse and course upgrades. Las Vegas Golf Club can't be beat for its fair prices, friendly atmosphere and relaxing golf. 4300 W. Washington. Call 702-646-3003
Las Vegas Paiute Resort sits at the base of the picturesque Spring Mountains. It has three magnificent championship golf courses that was conceived and designed by world-renowned architect Pete Dye. 10325 Nu-Wav Kaiv Blvd. Call 800-711-8287.
Painted Desert Golf Club is an enjoyable and challenging golf course for everyone. Designed by award-winning architect Jay Morrish, it features narrow fairways surrounded by natural desert terrain. It is 20 to 25 minutes from the strip. 5555 Painted Mirage Road. Call 800-468-7918.