Apprehensive about the state of affairs for the under-21 crowd in Vegas? Fear not! While our city has long had the reputation as a playground for adults, Las Vegas can be a fun, exciting, and even educational experience for the "younger set."

During the hot-weather months why not visit Wet 'n Wild? This is a water park with many novel attractions. Wet 'n Wild has several water slides, a wave machine, a children's water playground and even a river that leisurely runs through the park for those who just want to drift. They offer special group prices are available for parties. For more information and hours, call 702-734-0088.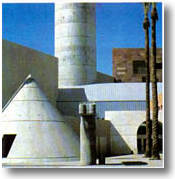 Bonnie Springs Old Nevada is a great place to spend an afternoon. The 1880s Mining Town reproduction, located in scenic Red Rock Canyon (off of W. Charleston Blvd. In West Las Vegas), offers a full-service restaurant, motel, gift shops, horseback riding stables, a petting zoo, historic exhibits and western shows--fun for the whole 'darn family! 702-875-4191.

The Lied Discovery Children's Museum features kid-oriented interactive exhibits. Open Tue.- Sat. from 10 a.m.-5 p.m. and Sun. from 12-5 p.m.; closed Mon. $5 adults, $4 children 12-17 & seniors, $3 children three to 11. 833 N. Las Vegas Blvd 702-382-5437.

The Big Top at Circus Circus is a carnival midway. There are games of skill and chance, as well as rides and shops. There is also free circus entertainment in the center ring from 11 a.m. until midnight. 702-734-0410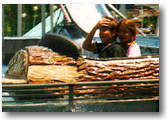 The prehistoric ages are recreated in Circus Circus' Grand Slam Canyon Theme Park. Kids can try the corkscrew roller coaster, the water flume ride and several other ride attractions. Park entry is free. Ride tickets or unlimited ride passes can be purchased inside. Open daily at 11 a.m. 702-794-3939.

Excalibur turns back the clock to the days of King Arthur with games of skill, arcades, shops and the thrilling Magic Motion Machine. This in-theater ride simulates the experience of being on a runaway train in the Swiss Alps or on a death-defying roller coaster. 702-597-7777.
Gilcrease Nature Sanctuary offers a safe haven for animals of all types. It is Southern Nevada's only non-profit wildlife refuge and public education center, housing exotic and indigenous birds and animals like quails, ducks, ostriches, parrots, turtles, goats and burros. It is located in Tule Springs area near Floyd Land States Park. Individual and group tours available. Open Wed.-Sun. from 10 a.m. to 3 p.m. 8103 Racel St. Call 702-645-4224 for reservations.
The Family Fun Center is what they call the Las Vegas Mini Gran Prix. It is a 7-acre park full of activites for all ages with four exciting tracks including Kiddie Karts, Go Karts and the state's only Adult Gran Prix and High Banked Oval Sprint Kart Tracks, also featuring Tornado Twister, Dragon Roller Coaster, a 90 ft. Super Fun Slide, huge arcade and Restaurant/Party Room. Great for all types of parties and is open year round. Just minutes away from the strip. Open Sun.-Thurs. from 10 a.m. to 10 p.m. and Fri.-Sat. from 10 a.m. to 11 p.m. One ticket $6; Five tickets $27.50. 1401 N. Rainbow Blvd. Call 702-259-7000 or 888-259-7223.
Real snow real close at the Las Vegas Ski & Snowboard Resort. Facilities include a 3,000-foot double chairlift, a chalet and lounge. A sophisticated snow-making system ensures full Thanksgiving to Easter skiing. North on Highway 95. For more information and hours, call 702-872-5462.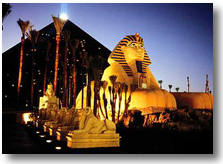 Luxor Casino/Hotel Archaeologists lead water tours that depart every few minutes.

MGM Grand Adventures is the first full-fledged theme park in Nevada. There are several acres that consist of rides and shows and a variety of themed areas, eateries and attractions. Seasonal attractions will be announced. Open daily from 10 a.m.-10 p.m. 702-891-7979.

MGM Grand houses an 11,400-sq.-ft. arcade. There are 30 of the hottest games including Betty Boop's Hot Rods, Popeye's Boat Race and a redemption center. Open 9 a.m.-1 a.m. daily.

The Santa Fe is the only place in Las Vegas to enjoy ice-skating. Hours vary. Call 702-658-4991 for rental information.

State-of-the-art arcades can be found at Bally's, Caesars Palace, Circus Circus, Excalibur, MGM Grand, Scandia, Monte Carlo, Stratosphere, The Forum Shops at Caesars, Atari Adventure at the Riviera, and the Sega Virtualand Arcade at the Luxor, which offers virtual reality games and interactive simulators.
Zoological - Botanical Park "The Children's Zoo" and...a Bengal Tiger, African Lion, Geoffroy's Cat, Barbary Apes, Chimpanzees, Mandarin Ducks, Flamingos, Cockatoos and Macaws, Mule Deer and more! Open daily 9 a.m. to 5 p.m. 1775 N. Rancho Dr. Call 702-648-5955 or 702-647-4685.

CHILD CARE

For experienced and licensed child care available 24 hours a day in either your home or hotel room, call the Children's Babysitting Service (CBS). 702-255-5955 or 702-258-1048

The Court Jester's Stage on the Fantasy Faire level of the Excalibur is always packed with jolly good entertainment ranging from magic and juggling to medieval music and dance. Free performances are offered daily from 10 a.m. to 11 p.m. (beginning on every half-hour). 702-597-7777.

For a truly unique experience, visit the Omnimax Theatre at Caesar's Palace, where you will be surrounded by sight and sound. The films are entertaining as well as educational. Showings are every 70 minutes Sun.-Thur. From 2-10:10 p.m. and Fri.-Sat. from 11:40 a.m.-10:10 p.m. Call for ticket information. 702-731-7900.

The Luxor Hotel/Casino has attractions and features along with a variety of entertainment involving cutting-edge movie technology. Shows play Sun.-Thur. From 9 a.m.-12 a.m. and Fri.-Sat. from 9 a.m.-1 a.m. 702-262-4555.

The United Artists Theatres Showcase 8 offers the best of Hollywood's first run movies on wall-to-wall screens, with state-of-the-art sound and projection including DTS, SDDS, Dolby Digital and THX sound systems. Located next to MGM Grand and All Star Cafe. Call 702-740-2468 for detailed information

NOTICE:

We recommended that parents be completely aware of the suitability of the shows that they consider for children. Though some shows may allow children to attend, parents may be surprised to hear a comedian, who is normally conservative on television, become suggestive or use profanity on stage. By the same token, some production shows with topless performers are done in extremely good taste and are not offensive. As with anything regarding kids, we recommend that you take the normal amount of caution in determining the suitability of each show. When chosen with discretion, most shows will be great experiences for all.